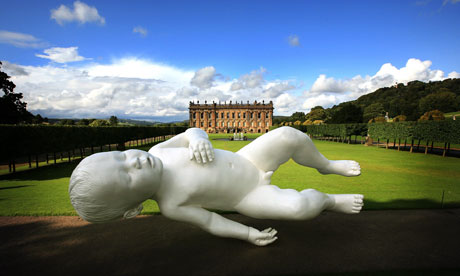 The glory years of youth and concept in British art are ending, not with a bang, but with a whimper. Nothing could look less urgent, aggressive or dangerous than
Yinka Shonibare's ship in a bottle
outside the National Gallery. Is this what it all amounted to? The hype and hopes invested in the art of my generation just come down to this consensus-friendly decoration.
At White Cube meanwhile
an ugly exhibition by Marc Quinn
conveys the cynical message that schlock beats substance. And from another world, another dimension,
Sean Scully, 65, has a thrilling exhibition of new paintings at Timothy Taylor Gallery
. If Scully is the most modern and important artist in town - and he is - an era has ended. A lie has died. It is a great moment when truth shines forth. Scully's heroic art exposes the shams we have endured with forced smiles on our ageing faces.
The death of the British boom in hot! new! young! art has been predicted before, but now it really seems to be happening. In its place a more catholic, and more honest era may be beginning.
Richard Wright's Turner Prize triumph last year
was a defiance of everything that is supposed to be exciting in contemporary art. Here was a 49-year-old with no public image at all and no desire to sell his work at art fairs. And he won, not through the whim of the judges, but because his truly original work shone in everyone's eyes. How many Wrights are we denying ourselves, in our cult of the obvious and banal in art? And that includes Wrights who are 18 years old. This is not about age versus youth – it is about ambitious and personal work versus the fluff of the marketplace.
So here we are. I can point to other signs. No Soul For Sale at Tate Modern
certainly felt like the debris of something
. But above all the logic of
Damien Hirst
's return to painting and
self-exposure as a tiny talent
needs to be faced.
Hirst, as artist, curator and in his prime a cod philosopher of almost Warholian dumb articulacy, was the true author of British art's fame in the 1990s. The innumerable artists who swam in his wake and shared his success were minnows by comparison. Now the great white shark himself has turned out to be such a little fish after all, what does that make his contemporaries? Plankton.
This year's
Turner Prize
follows the Wright trail with
a shortlist of mature artists
. Surely the next stage must be dropping the age limit. When that happens, we will know the age of Young British Art is over. It's a good time to be a critic – lots of plankton to eat.